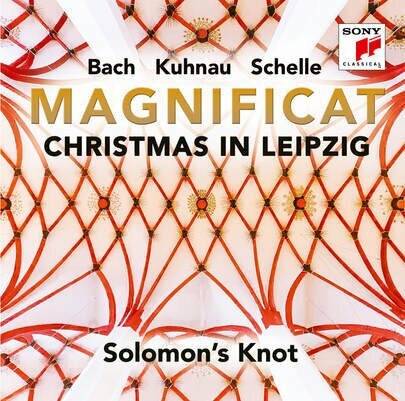 ---
Solomon's Knot's first ever album was released on 15 November 2019 on the Sony Classical label. Opening with Schelle's motet Machet die Tore weit, followed by Kuhnau's Magnificat which provided Bach with the blueprint for his 1723 version in Eb (including Christmas lauds), the album traces the connection between the three 'Johanns' who were subsequently cantor at the Thomaskirche in Leipzig through their festive music for the Advent and Christmas period.
The album was recorded live during the 'Christmas in Leipzig' concert at the Barbican's Milton Court in December 2018.
Johann Schelle (1648-1701) Machet die Tore weit
Johann Kuhnau (1660-1722) Magnificat in C major
Johann Sebastian Bach (1685-1750) Magnificat in E-flat major BWV 243a (incl. Christmas lauds)

Sony Classical
Release date 15/11/19
Catalogue number: 19075992622
Duration 70 mins.
Reviews
​BBC Music Magazine
"A glittering debut recording for the musicians, whose live sound has been decanted beautifully here in celebration of three of Leipzig's finest. Bach's offering shines brightest." ★★★★★
Gramophone
"Solomon's Knot's recording debut presents Leipzig Magnificats by Bach and Kuhnau, performed with expressive immediacy and excitement. Overall this is a joyful disc and an impressive debut" – review by Edward Breen
BBC Radio 3 Record Review
"there's a real sense of do or die, they're right on the edge of their seats…a beautifully-conceived programme…one of my favourites" – commented Alexandra Coghlan on BBC Radio 3 Record Review
Radio Klassik, Stephansdom
"The close connection, the special atmosphere that is created with the audience in this way, was also easily transferred to CD by the musicians by recording a single concert evening. You can hear how each individual member of the collective identifies with their own interpretation and thus ensures a great musical experience. Baroque Christmas music from Leipzig, which you can confidently enjoy even in the days after Christmas!" – commented Michael Gmasz on Radio Klassik, Vienna
The Arts Desk
"if those pounding drum beats and bright trumpets don't set your heart racing, you've no soul. […] Playing and singing are stellar throughout the disc, the live recording thrillingly immediate." – review by Graham Rickson
The Observer
"Bach's Magnificat [..] from the lean, sprightly forces of Solomon's Knot [is] highly recommended" – review by Fiona Maddocks
Planet Hugill
"Each Solomon's Knot concert is vibrantly vivid and highly communicative event, and on this disc the group goes a long way to bringing its ethos into the recording studio" – review by Robert Hugill
Blog Andrew Benson Wilson
"This recording is a delight, and well represents Solomon's Knot particularly individual style of live performance."